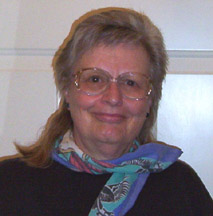 In Memory: Audrey L. Link

July 25, 1940 - September 22, 2008

Link Center Foundation Founder / President Crosses Over

By Stephanie M. Schwartz, Freelance Writer

Member, Native American Journalists Association (NAJA)

www.silvrdrach.homestead.com/Schwartz_2008_Sep_29.html

© Text and Pictures  September 29, 2008  Firestone, Colorado

Audrey L. Link, Founder, Director and President of the Link Center Foundation (linkcenterfoundation.org) in Longmont, Colorado tragically and suddenly passed away on Monday, September 22, 2008, due to a brain aneurysm and massive cerebral hemorrhage.  She was 68 years old.
Born July 25, 1940 in Johannesburg, South Africa of American parents, Audrey came back to the United States at the age of 17.  Throughout her life in North Carolina and, later, in New Mexico, her strength and creativity expressed itself through many years as a nurse and home remodeler as well as stained glass artist, artwork framer, and master carpenter and wood-worker. 

After moving to Colorado in the early 1990's, Audrey worked for the non-profit Solstice Institute in Boulder, Colorado.  Audrey received her Bachelor of Divinity Degree in 2001 and she also obtained the level of Reiki Master in the same year.  She continued her Reiki work through massage, herb, and natural oils therapy throughout the rest of her life and was an active member of the Boulder [Colorado] Healing Arts Association.  At the time of death, she was self-employed as a respite/hospice caregiver in Denver, Colorado as well as continuing her creative projects through her for-profit company, Link Center Designs.

In 2001, Audrey began to assist various cultural preservation projects and conferences for the Lakota Nations as a volunteer.  She was also Treasurer and Board Member of the all-volunteer Wambli Ho, Voice of the Eagles non-profit organization in Colorado and a regular contributing author to its internet Wambli Ho News from 2002-2006.  Additionally, Audrey was instrumental in organizing winter holiday toy drives for the Porcupine District of the Pine Ridge Reservation for many years.  In March, 2002, she was inspired to found the Link Center Foundation (LCF) by her long-held vision to work to promote peace on earth and respect for all life.  Link Center Foundation is her grassroots, all-volunteer effort to fulfill her dream of people helping people.

Link Center Foundation's main project is an emergency heating and utility assistance program for the elders, disabled, and ill of the Lakota Reservations of South Dakota, particularly on the Pine Ridge, Rosebud, and Cheyenne River Siouxan Reservations.  LCF Volunteers are also assisting with transcribing tapes of stories and wisdoms of indigenous elders in an effort to save them for the younger generations.  Website support is also being provided for the He Ska Tokala Sobriety Society of Pine Ridge as well as for local artisans from the Pine Ridge Reservation. 

Further, Audrey Link personally built wheelchair ramps for the needy on the Pine Ridge Reservation in June of 2008 and was currently designing a program to encourage cottage industries on the Reservations.  She was very careful to keep all Foundation activities non-political and non-religious by being completely supportive of the traditional indigenous cultures.  She wisely surrounded herself with multi-cultural advisors, routinely networked with other non-profit organizations, and consulted with traditional leaders everywhere her activities led her.

Audrey's long-term goal for Link Center Foundation was to build a multi-cultural teaching center to hold workshops for people to learn basic business skills, herbs/alternative healing methods, horticulture, and basic construction/repair skills.  This center would also hold alternative energy and multi-cultural wisdom conferences.  She also wanted to expand the LCF programs to include projects to help people help themselves as well as to provide alternative educational programs for high school drop-outs.

Audrey Laura Link was a remarkable woman of impeccable ethics, strength, and determined resolution to spend her life helping others.  Her constant kindness will long be remembered by everyone who met her.  She is survived by her daughter and son-in-law, Laura and Alva Duke of Franklin, North Carolina, two sons, Robert Brown and Keith Brown of Florida, and numerous grandchildren and great-grandchildren.  She was preceded in death by one daughter, Janet Brown, and her brother, Kenneth Link.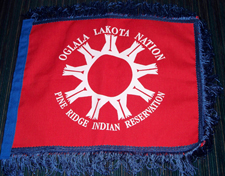 Traditional memorial ceremonies celebrating her life were held near Boulder, Colorado on September 27, 2008 with David Swallow, Lakota Head Man and Spiritual Leader, officiating.  Audrey's life and good works were honored by the Pine Ridge Tribal Council through gifts to her family of a replica of the Oglala Sioux Tribe flag and a star quilt bearing the symbol of the Oglala Nation.  Lakota Head Man, Harvey Iron Boy, presented the tribal gifts and delivered the eulogy at the ceremony.

In honor of Audrey Link, her family and the Board of Directors have decided to continue Link Center Foundation and its work.  It is hoped that eventually all her dreams will be fulfilled through the ever-evolving Foundation projects.

The family asks that, in lieu of flowers, memorial donations be made to the LCF Emergency Heating/Utility Assistance Fund for the elders, disabled, and sick of the Lakota Nations through the LCF website, www.linkcenterfoundation.org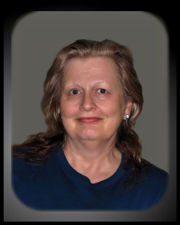 This article may be reprinted, reproduced, and/or re-distributed unedited with proper attribution and sourcing for non-profit, educational, news, or archival purposes.

View other publications of Stephanie M. Schwartz at <www.SilvrDrach.homestead.com>

Graphic: © September 2008  Tom Cervasio